Use of Certification Marks
We share our terms and conditions for using the certification marks with our valued clients to ensure they can meet the certification and accreditation requirements.
GCC Logo and Certification Marks
Clients may only use the Certification Mark corresponding to the standard(s) and the scope that Certification is based on.
Clients can only use a Certification Mark, which they have been provided with a valid Certificate of Conformity.
Clients with multiple sites can only use the Certification Mark corresponding to the site(s) that they have been certified. The Certification Mark must not be used in any way to create an assumption that not included sites are certified.
The Certification Mark may be shown on Client's letters and other public relations material such as business cards, website and email signature.
The Certification Mark must not be used on product or in any way to create an assumption that it is a product Certification Mark or that a product has been certified.
The Certification Mark must only be shown in standard size and design. Standard size and design may be obtained from GCC on request.
The Certification Mark must never be shown as larger than Client's own logo, but the certification Mark must always be shown in its entirety.
Client will consult with GCC in respect of use of the Certification Mark if necessary.
In case of suspension or withdrawal of a certificate client must discontinue its use of all advertising matter containing a reference to Certification.
In case of incorrect reference to Certification status or misleading use of certification documents or marks, GCC may request corrective actions, suspension or withdrawal of certificate, publication of the transgression or, if necessary, legal action.
The Certification Mark must not be applied to laboratory test, calibration or inspection reports, as such reports are deemed to be products in this context.
JAS-ANZ Logo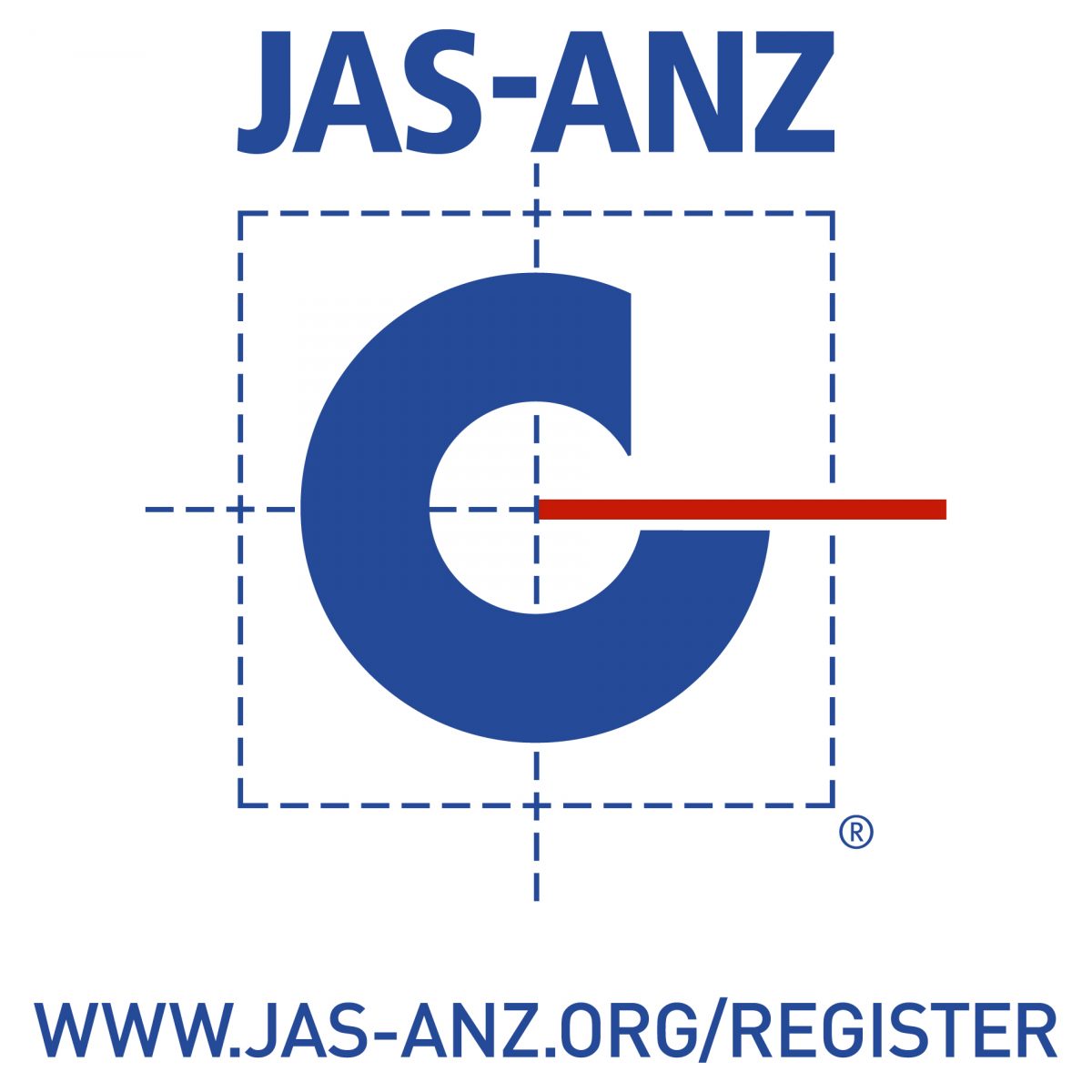 The client may place the Accreditation Symbol adjacent to the name and/or certification marks of GCC and own logo.
The dimensions of the JAS-ANZ Symbol and the GCC certification mark are proportionately equal.
The Accreditation Symbol is only to be reproduced in the colour combination shown here. These colours are: [PMS Reflex (Blue) and PMS 485 (Red)].
However, the symbol may be reproduced in a single colour to conform to existing pre-printed stationery or newspaper and magazine articles.
The URL for the JAS-ANZ register (www.jas-anz.org/register) must be displayed. If the Accreditation Symbol is used more than once in the same document, the URL need only appear in the first instance.
The Accreditation Symbol may be uniformly enlarged or reduced but shall be sufficiently large for the wording to be clearly legible.
The Accreditation Symbol may be embossed or stamped when used on paper.
Electronic copies of the JAS-ANZ symbol may be obtained from the GCC office.
Notification of Changes
Clients are required to notify GCC immediately if:
There is any change in the direct or indirect beneficial ownership or control of the business
Any significant events including, but not limited to:

Fatal incidents
Serious injuries
Occupational disease
Environmental disaster/accident
Legal action by a regulatory authority or interested party. (Any audit report/finding by any third party need to be reported to GCC in next surveillance audit)
Ceasing to carry on business
Ceasing to be able to pay its debts as they become due
Suspension and Withdrawal of Certification
A Certificate may be suspended, withdrawn or cancelled for a limited period or permanently in situations such as the following:
Failure to meet the requirements for maintaining the certification of management systems, relevant legislation requirements, or the certification agreement.
Failure to take effective corrective actions to identified non-conformities within the set time limit
Failure to pay the fees due upon written notice from GCC
Improper use of the certification status, the Certificate of Registration, or the GCC and/or JAS-ANZ Certification mark or logos
If the client voluntarily and officially requested a suspension in writing
Failure to undergo a surveillance audit according to certification program set by GCC
Bespoke services
What Our Clients Say
The Global Compliance Certification team made the entire process as seamless as possible for my recent NDIS verification audit. The professional and friendly team were able to provide an excellent

service for my business. And the auditor was made me feel very comfortable and erased any nerves. I would happily recommend them to all.Deb JacksonDJ Plan Management and Accounting

read more
The quality offer for GCC is consistently outstanding, exceeding my expectations every time and their staff is kind, friendly but also highly skilled. I was completely impressed with their

professionalism and customer service. Thank you very much guys!

read more
Our auditor Sanyog Desai his professionalism and extensive knowledge made a significant impact on our journey to a successful audit.Once again, I would like to express my sincere gratitude for your

great help.

read more
I am pleased to share my overwhelmingly positive experience with the GCC auditor during the recent meeting. From start to finish, the auditor's professionalism, expertise, and commitment to the task

at hand were truly remarkable.

read more
I had the pleasure of dealing with GCC and the Auditor assigned to me to guide me through my NDIS re-verification audit . I like most people a little nervous that I may have missed something. From

the start up zoom audit process I was greeted with a calm approach , I found the audit process not only informative and helpful but Al Matin gave me motivation again after what has been a very hard couple of years. He explained ways for me to keep growing and improving my business, my audit was successful and insightful, I would highly recommend any small business to be at ease when dealing with GCC and staff . An overall great experience.

read more
GCC have delivered a high standard of service which sets a precedence amongst their competitors. They were super informative and also educative which gives our organisation the confidence that our

practices are in line with NDIS expectations. They're professionalism and delivery is commendable and I wouldn't hesitate in recommending their services to other providers. Thank you GCC! (Krisneil Care)

read more
Great help! Made the audit process, quick easy and very positive. Thank you!
What an amazing team, GCC made me feel so comfortable through out the audit process for Fidget & Co. The team is extremely helpful, communicative and professional. I highly recommend GCC.
What a Team!As scary as an audit can be these guys made it seem so simple with their informative and regular communication.The auditor (Christine) explained everything in a way that I was able to

understand exactly what I needed to do, excellent communication.I highly recommend GCC to anyone needing help with their Audit process, or simply for advice.Thank you to all the Team.

read more
Thanks to GCC for all support and help , especial for our auditor Mel . she is very professional , knowledgeable .
My experience with my auditor Frann, was very pleasant. Thank you so much for your professionalism. I will certainly engage GCC for my next audit.
I've recently had an audit with Armin Eftekhari from GCC and I would like to highly recommend GCC especially Armin for the great work they do. Armin was highly professional and very knowledgeable

in his field. He made the process of the audit a very informative and supportive experience for us while acknowledging our efforts as a provider. Having an auditor with such approach further motivates providers to do even better with what they do. Many thanks to Armin and GCC.Kind regards,Laylan ShamdinDirectorBuilding Abilities Disability Services

read more
I would like to send great appreciation and positive feedback for our audit with GCC.Thank you for every team member who had participated during the process.We feel comfortable for the efficient

and effective communication between GCC staff and us.Special THANK YOU for Auditors - Shervin and MelThey are both very very professional and knowledgeable auditors. They delivered clear auditing structure and scientific procedures that minimising the confusion when we identifying what is the question, so that we could demonstrate our work quicker than usual. This made a smoother Q&A mechanism, therefore we felt less nervous and were able to present a better performance in the auditing.I am representing Helpie to appreciate your time and effort!We are looking forward to meet with you for our mid-term audit in 18 months.We would definitely recommend GCC to my friends.

read more
Feedback –I would like to thank the team at GCC for all the support and guidance provided to us throughout our audit journey. In particular, I would like to thank our lead auditor Mr Shari Ghobadi

for his patience, empathy and professionalism which led to a successful and stress-free audit.Overall it was a pleasure collaborating with GCC and I look forward to working with them in the future as well.Recommendations –I strongly recommend GCC to anyone looking for a professional, honest, and efficient organisation !

read more
Terrific experience! I would like to thank my lead auditor Shari Ghobadi for the excellent and efficient manner in which he conducted my NDIS certification audit for Specialist Behaviour Support. He

was extremely professional and knowledgeable. I would highly recommend GCC for the NDIS audit. Thank-you.

read more
GCC exceeded every expectation.Their Administration staff eliminated any apprehension and uncertainty I held with prompt and reliable guidance throughout the entire process.Their Auditor's

comprehensive knowledge and expertise, even with my company's specific requirements, was outstanding.Engaging GCC's services helped me develop a confident understanding of my business and quite a positive outlook from hereon.

read more
GCC is very professional and efficient when it comes to audit. We used GCC for our company NDIS registration audit and found them to be very effective and efficient. We passed our audit thanks to

GCC! Highly recommend them!

read more
I highly recommend GCC for NDIS audit. Good customer service and overall very informative experience.
We have thoroughly enjoyed working with GCC and our lead auditor Rob for the past two years! He is making the process a lot less daunting and is great at understanding your business. The standards

are applied to your systems and style of work, rather than putting all companies within the same square box! Looking forward to working with GCC and Rob in coming years.Would highly recommend GCC to anyone wanting to achieve and maintain their ISO certification.

read more
Our Auditor Abdullah was very thorough and informative with comments on how we can still do better and how our Integrated Management System can help us grow.
Our Auditor, Mosta Ashena, is very professional and highly knowledgeable in his craft. He made sure that applicants to become NDIS Provider have the right knowledge and skills before recommending to

NDIS Commission for approval.Thank you GCC and Mosta and we are looking forward to our midterm audit.God bless!

read more
I received excellent customer service from GCC team before, during and after my audit exercise. They were professional in their communication and business conduct.In terms of cost, I got value for

money. I did shop around before I choose them. I found GCC affordable without having to wait for a long time for audit appointment.I confidently recommend GCC for your NDIS provider audit, and you will never regret you did.

read more
Highly recommend with 5 stars for their professionalism and outstanding communication throughout the Audit. Many thanks to the Lead Auditor - Joven Mercado and Certification Co-ordinator - Priscilla

Bonella for their outstanding effort and service.

read more
We have had a wonderful experience with GCC as we go through the NDIS verification process. We have used GCC twice now and on both occasions they have provided a high quality service. Their

communication is next to none, with quick informative replies.Their service is always positive and friendly yet professional and helpful.I would highly recommend GCC to anyone in need of this service.

read more
All staff, managers, and auditors have effective communication, oriented and innovation. Enjoyed working with GC Certification and thank you for your professional nature. I recommend GC

Certification for now and the future.

read more
Thank you to GCC (Jo and Mandana) for your professionalism, kindness, excellent feedback and sense of humour that lightened up a super stressful time. I don't think anyone looks forward to 'audit

day' but you certainly made it much less stressful. Thank you!

read more
My auditors were both lovely. I learnt soo much from my audits. I am guaranteed I will be improving myself from their feedback. Great service !!
I am very happy working with GCC from the day one I have contacted and their communication was excellent on every phone call or on enquiry.The auditors were excellent and I will highly recommend

for JO Gray and Mosta.

read more
We had Mel Peka as our auditor. We highly recommend her for her professionalism, attention to detail, and at the same time, being lovely and supportive to make us at ease during our audit. She is

very customer focused and full of knowledge that she shared with us as well.

read more
I would like to thank the team at GCC for their services. In particular, I would like to thank my lead auditor Faz.Faz was extremely patient with me and explained all the requirements for the audit

well before the audit date.He was able to explain in simple terms what documents were needed and why they were needed. For anyone wanting to get an audit done, I would highly recommend you get into contact GCC.Thanks again GCC and I'll definitely be back for my next audit.Abdi

read more