Use of Certification Marks
We share our terms and conditions for using the certification marks with our valued clients to ensure they can meet the certification and accreditation requirements.
GCC Logo and Certification Marks
Clients may only use the Certification Mark corresponding to the standard(s) and the scope that Certification is based on.
Clients can only use a Certification Mark, which they have been provided with a valid Certificate of Conformity.
Clients with multiple sites can only use the Certification Mark corresponding to the site(s) that they have been certified. The Certification Mark must not be used in any way to create an assumption that not included sites are certified.
The Certification Mark may be shown on Client's letters and other public relations material such as business cards, website and email signature.
The Certification Mark must not be used on product or in any way to create an assumption that it is a product Certification Mark or that a product has been certified.
The Certification Mark must only be shown in standard size and design. Standard size and design may be obtained from GCC on request.
The Certification Mark must never be shown as larger than Client's own logo, but the certification Mark must always be shown in its entirety.
Client will consult with GCC in respect of use of the Certification Mark if necessary.
In case of suspension or withdrawal of a certificate client must discontinue its use of all advertising matter containing a reference to Certification.
In case of incorrect reference to Certification status or misleading use of certification documents or marks, GCC may request corrective actions, suspension or withdrawal of certificate, publication of the transgression or, if necessary, legal action.
The Certification Mark must not be applied to laboratory test, calibration or inspection reports, as such reports are deemed to be products in this context.
JAS-ANZ Logo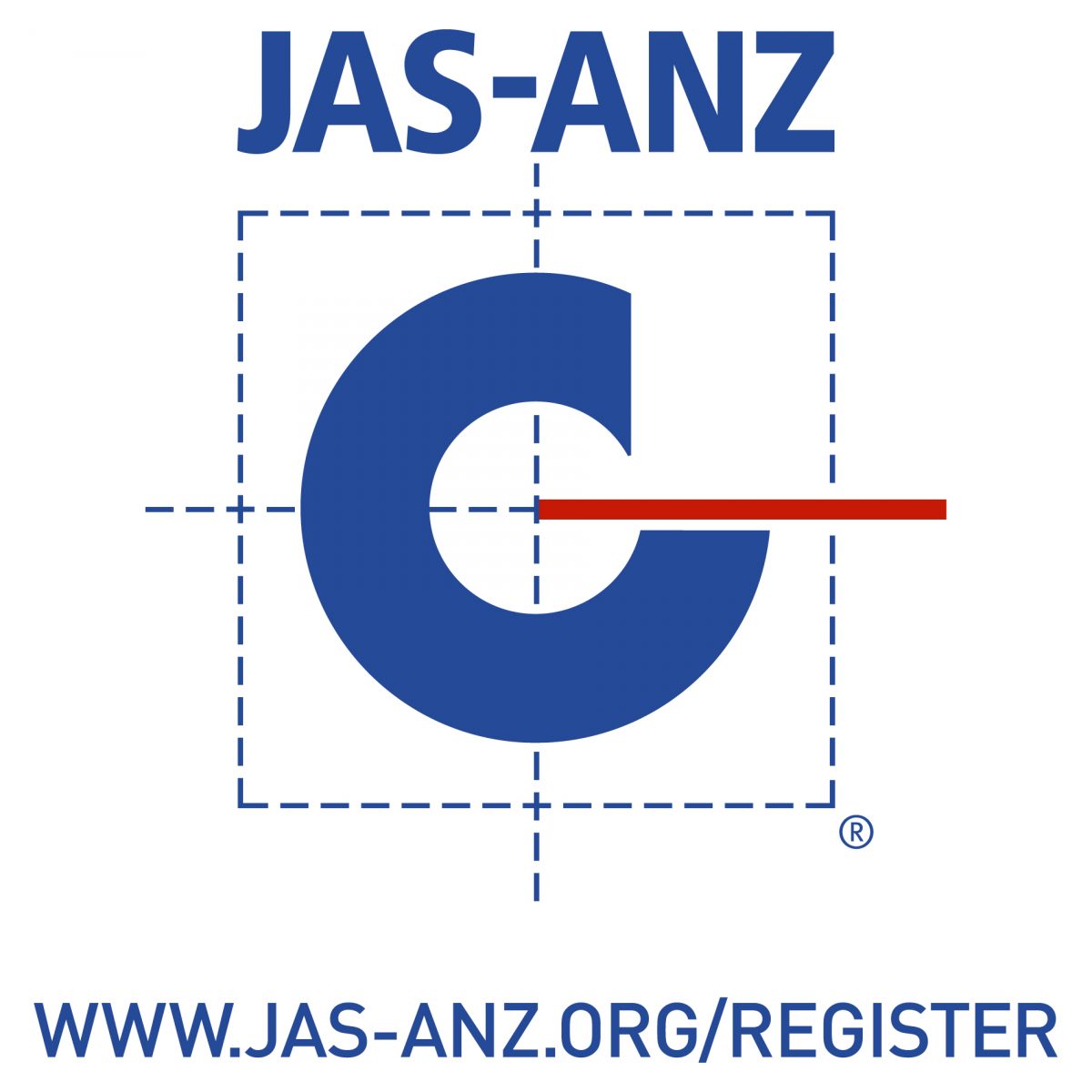 The client may place the Accreditation Symbol adjacent to the name and/or certification marks of GCC and own logo.
The dimensions of the JAS-ANZ Symbol and the GCC certification mark are proportionately equal. 
The Accreditation Symbol is only to be reproduced in the colour combination shown here. These colours are: [PMS Reflex (Blue) and PMS 485 (Red)].
However, the symbol may be reproduced in a single colour to conform to existing pre-printed stationery or newspaper and magazine articles.
The URL for the JAS-ANZ register (www.jas-anz.org/register) must be displayed. If the Accreditation Symbol is used more than once in the same document, the URL need only appear in the first instance.
The Accreditation Symbol may be uniformly enlarged or reduced but shall be sufficiently large for the wording to be clearly legible.
The Accreditation Symbol may be embossed or stamped when used on paper.
Electronic copies of the JAS-ANZ symbol may be obtained from the GCC office.
Notification of Changes
Clients are required to notify GCC immediately if:
There is any change in the direct or indirect beneficial ownership or control of the business
Any significant events including, but not limited to:

Fatal incidents
Serious injuries
Occupational disease
Environmental disaster/accident
Legal action by a regulatory authority or interested party. (Any audit report/finding by any third party need to be reported to GCC in next surveillance audit)
Ceasing to carry on business
Ceasing to be able to pay its debts as they become due
Suspension and Withdrawal of Certification
A Certificate may be suspended, withdrawn or cancelled for a limited period or permanently in situations such as the following:
Failure to meet the requirements for maintaining the certification of management systems, relevant legislation requirements, or the certification agreement.
Failure to take effective corrective actions to identified non-conformities within the set time limit
Failure to pay the fees due upon written notice from GCC
Improper use of the certification status, the Certificate of Registration, or the GCC and/or JAS-ANZ Certification mark or logos
If the client voluntarily and officially requested a suspension in writing
Failure to undergo a surveillance audit according to certification program set by GCC
Bespoke services
What Our Clients Say
I completed my NDIS Certification Audit on Friday 23 April 2021 and as terrified as I was of the process, the management (Mousa Sharifi) and auditors (Shari Ghobadi and Tania Raar), who conducted the

audit were absolutely wonderful every step of the way. I am very grateful for the successful outcome of my audit, however more than that, I am most grateful to this amazing GCC team and will recommend them to any provider out there seeking to obtain their NDIS Certification. Thank you.

read more
Professionalism, supportive, clear communication of expectations and excellent customer service is the experience received when using GCC.Staff experience and skills were exceptional, ranging from

sales, management and auditors.

read more
Sahar 🙂 and Hamid 🙂 were very professional, extremely patient and very kind to me during all aspects of my Audit. I was a little nervous and they ensured I was okay and we managed to get through

my Audit wonderfully. Thank you Sahar and Hamid 🙂 you were both very understanding in the lead up to my Audit and also during my Audit - you both made me feel very comfortable and relaxed.

read more
Staffs were very responsive and professional. Would love to work with them again.
Moussa and his team of auditors always provide a friendly and professional approach during their audits. They are happy to do workarounds to the schedule based on our operating requirements of the

day. Their findings provide clear guidance to any area we may need to address at the time of the audit. Its always a pleasure to have Moussa and his team around.

read more
Busy Runners Enterprises undertook an audit with GCC and have found them to be professional, polite, courteous, helpful and very understanding. There staff were all very nice and they aimed to work

with us in suiting our availabilities. I would recommend GCC to all others for their high quality professionalism.

read more
GCC never failed to demonstrate excellence and professionalism in their dealings with us. GCC staff were prompt and detailed with information to help us build a strong audit application. They managed

to answer all of our questions with care and assurance. GCC were not just completing a transaction, they were in fact building a credible business relationship so that we were able to experience a sense of confidence during a very stressful time. Their staff maintained an uncompromising professional standing ensuring that GCC was never in a position of collusion.Raj HillaryCEOIndie Lifestyle

read more
I highly recommend GCC for the high quality, professionalism and efficiency of their services. We were extremely impressed with their swift and helpful responsiveness, and the incisive and

constructive approach of the auditor. We look forward to working with GCC in future as we develop our business.

read more
Could not recommend GCC enough . We dealt with Mousa ( Director), Hamid ( Auditor) and Amy ( NDIS Coordinator ) for NDIS Certification Audits and We was very confused in regards to the process and

everything before speaking with them. The responses were prompt, extremely helpful throughout the whole process and went above and beyond with meeting timelines and assisting with best prices. Thank you so much and our apologies on the delayed review!

read more
GCC Were very helpful with all queries we had about our audit and were very professional also completing there audit on schedule allowing our business to keep to our time frame with our clients

Sheds This Way would recommend GCC for NDIS audit not only on there competitive price but also there friendly staff

read more
I can highly recommend GCC for your next NDIS audit. Of the 14 companies I requested a quote from, they were one of the most competitive and the most helpful. I felt well supported and informed

from the first contact. The steps and requirements were clearly communicated and explained with ample access to someone to answer any questions prior to audit day. The audit itself was conducted remotely which saved on any associated travel costs, and the auditor was very professional, personable and helpful. We are now looking forward to GCC making the recommendation to the NDIS Commission and eventually receiving our registration.I feel very confident that in 18 months when we have our stage 2 audit with GCC, we will be in very good hands. I could not have asked for a more professional, well informed, and supportive service for our audit.

read more
I was extremely stressed prior to my audit till I met Amanda Watson, Auditor from GCC. Amanda was extremely professional and approachable which helped calm my nerves. The entire process was seamless

and not at all what I had expected given stories I had heard from other organisations going through audits to become Registered NDIS providers. Thank you Amanda and GCC for supporting Links2Community Pty Ltd, a small and new business.Athellia Dias - DirectorLinks2Community Pty Ltd

read more
Our GCC auditor was friendly and helpful. She had an in-depth understanding of the NDIS practice standards which combined with her background in disability made for a very thorough audit with a lot

of useful guidance along the way. When conducted well audits can be a positive and valuable exercise which was our experience with GCC.

read more
We were so impressed with this company. The were so fast and efficient and informative. They spent time to prepare us for the audit and explained the whole process to us. Their auditor Saeed's

positive attitude and warming personality made us feel extremely comfortable and less stressed throughout the entire audit process. He was extremely informative and took his time to explain everything to us and was so fast and efficient and was able to get his report finished in less then a week. We would defiantly give him and the company a 10 out of 10 for their performance.

read more
GCC has provided exceptional service during all stages leading up and throughout the audit. Eliza, and our auditor Ehsan, were very professional, friendly and knowledgeable. They were prompt and easy

to work with. The process was very smooth and we received certification quicker than expected. We highly recommend them and we intend to continue utilising GCC's services for as long as we operate.

read more
Our company engaged GCC to complete our NDIS audit. We were highly satisfied with the service at all stages. From the initial consultation to the audit completion we found that the staff at GCC were

very helpful and professional. The process allowed us to refine our processes and provide extra value to our clients. We would highly recommend this company for any compliance work.

read more
Stress-free Auditing process with GCC and great customer service.
Great to work with GCC. Record breaking timeframe. They have kept all their promises. Moussa would go above and beyond to arrange a time.We had auditors flying from interstate, they were accurate on

time.They have delivered their outcome and report on time.We strongly recommend GCC to all companies out there.We would not hesitate to work with them again.

read more
Had my audit with them a month ago and I am amazed on how they were able to do it within my timeframe. They are quick to respond and definitely true to their word. Very helpful team, I'm glad I

went with them.

read more
GC Certification were absolutely fantastic to work with through our recent NDIS Audit. From the first call making the initial inquiry, to the final audit completion, all of their staff were

knowledgeable, and made the process so much easier.Whilst based in Sydney. They linked us with a local Brisbane auditor with ease and without fuss.I highly recommend this place for any NDIS related auditing!

read more