Use of Certification Marks
We share our terms and conditions for using the certification marks with our valued clients to ensure they can meet the certification and accreditation requirements.
GCC Logo and Certification Marks
Clients may only use the Certification Mark corresponding to the standard(s) and the scope that Certification is based on.
Clients can only use a Certification Mark, which they have been provided with a valid Certificate of Conformity.
Clients with multiple sites can only use the Certification Mark corresponding to the site(s) that they have been certified. The Certification Mark must not be used in any way to create an assumption that not included sites are certified.
The Certification Mark may be shown on Client's letters and other public relations material such as business cards, website and email signature.
The Certification Mark must not be used on product or in any way to create an assumption that it is a product Certification Mark or that a product has been certified.
The Certification Mark must only be shown in standard size and design. Standard size and design may be obtained from GCC on request.
The Certification Mark must never be shown as larger than Client's own logo, but the certification Mark must always be shown in its entirety.
Client will consult with GCC in respect of use of the Certification Mark if necessary.
In case of suspension or withdrawal of a certificate client must discontinue its use of all advertising matter containing a reference to Certification.
In case of incorrect reference to Certification status or misleading use of certification documents or marks, GCC may request corrective actions, suspension or withdrawal of certificate, publication of the transgression or, if necessary, legal action.
The Certification Mark must not be applied to laboratory test, calibration or inspection reports, as such reports are deemed to be products in this context.
JAS-ANZ Logo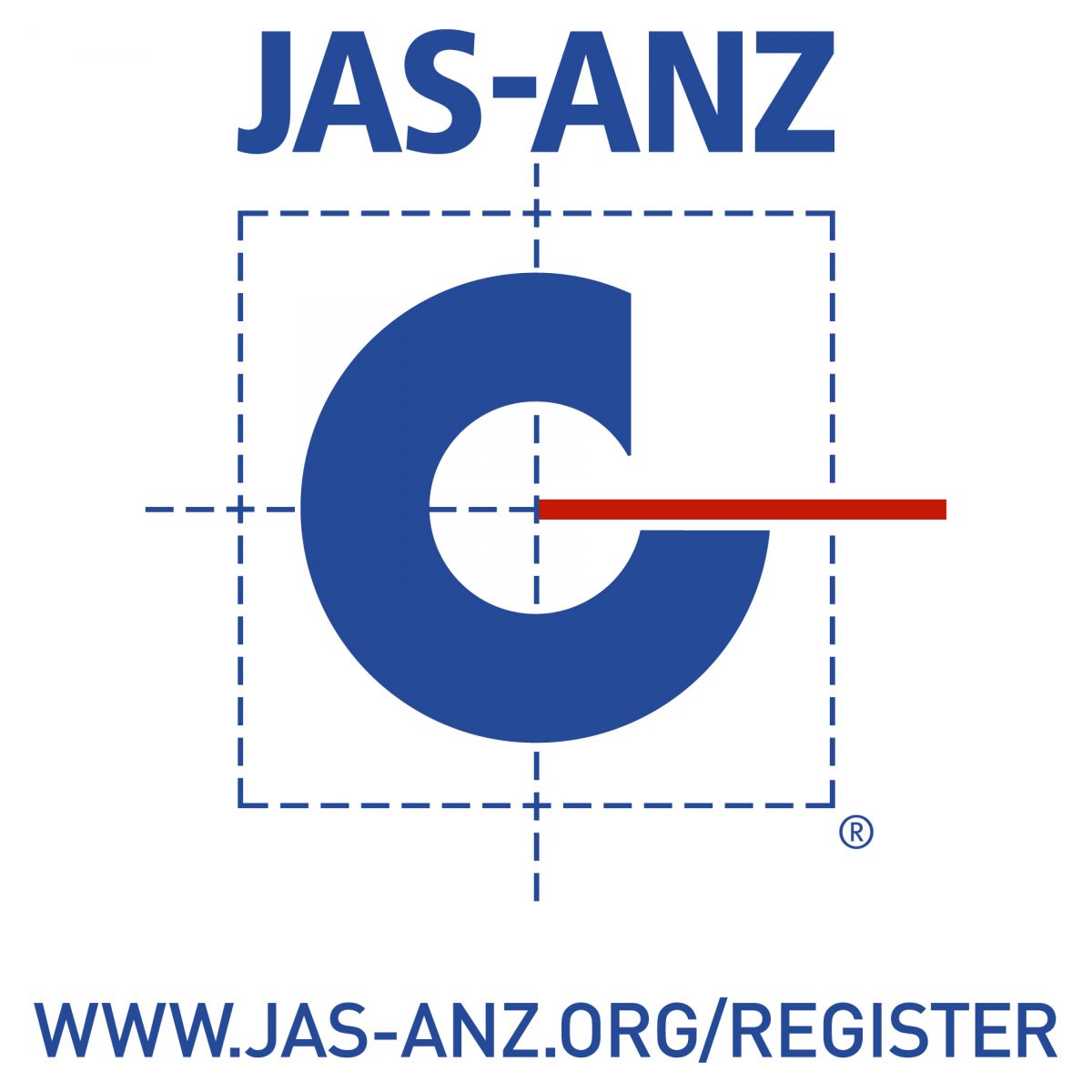 The client may place the Accreditation Symbol adjacent to the name and/or certification marks of GCC and own logo.
The dimensions of the JAS-ANZ Symbol and the GCC certification mark are proportionately equal.
The Accreditation Symbol is only to be reproduced in the colour combination shown here. These colours are: [PMS Reflex (Blue) and PMS 485 (Red)].
However, the symbol may be reproduced in a single colour to conform to existing pre-printed stationery or newspaper and magazine articles.
The URL for the JAS-ANZ register (www.jas-anz.org/register) must be displayed. If the Accreditation Symbol is used more than once in the same document, the URL need only appear in the first instance.
The Accreditation Symbol may be uniformly enlarged or reduced but shall be sufficiently large for the wording to be clearly legible.
The Accreditation Symbol may be embossed or stamped when used on paper.
Electronic copies of the JAS-ANZ symbol may be obtained from the GCC office.
Notification of Changes
Clients are required to notify GCC immediately if:
There is any change in the direct or indirect beneficial ownership or control of the business
Any significant events including, but not limited to:

Fatal incidents
Serious injuries
Occupational disease
Environmental disaster/accident
Legal action by a regulatory authority or interested party. (Any audit report/finding by any third party need to be reported to GCC in next surveillance audit)
Ceasing to carry on business
Ceasing to be able to pay its debts as they become due
Suspension and Withdrawal of Certification
A Certificate may be suspended, withdrawn or cancelled for a limited period or permanently in situations such as the following:
Failure to meet the requirements for maintaining the certification of management systems, relevant legislation requirements, or the certification agreement.
Failure to take effective corrective actions to identified non-conformities within the set time limit
Failure to pay the fees due upon written notice from GCC
Improper use of the certification status, the Certificate of Registration, or the GCC and/or JAS-ANZ Certification mark or logos
If the client voluntarily and officially requested a suspension in writing
Failure to undergo a surveillance audit according to certification program set by GCC
Bespoke services
What Our Clients Say
We couldn't have asked for better auditors. The level of communication was outstanding.Thank you, Mr Shari and Mr Saeed Ghobadi you were both an absolute pleasure to deal with. Hope you will be

available for our next audit. Highly recommended.

read more
I am very happy working with GCC from the day one I have contacted and their communication was excellent on every phone call or on enquiry.The auditors were excellent and I will highly recommend

for JO Gray and Mosta.

read more
We had Mel Peka as our auditor. We highly recommend her for her professionalism, attention to detail, and at the same time, being lovely and supportive to make us at ease during our audit. She is

very customer focused and full of knowledge that she shared with us as well.

read more
I would like to thank the team at GCC for their services. In particular, I would like to thank my lead auditor Faz.Faz was extremely patient with me and explained all the requirements for the audit

well before the audit date.He was able to explain in simple terms what documents were needed and why they were needed. For anyone wanting to get an audit done, I would highly recommend you get into contact GCC.Thanks again GCC and I'll definitely be back for my next audit.Abdi

read more
Absolutely fantastic service, in particular from auditors Faz and Sladjan who were incredibly professional and understanding, as well as Kath who was very accommodating. Will definitely be going with

GCC again, and requesting Faz and Sladjan again if possible, as well as recommending GCC to the other providers I work with.

read more
Very pleased with the services of GCC. Extra special thanks to our auditor Mel Peka who has been instrumental in the success of our NDIS journey as a provider. Mel has been so supportive from the

start. She constantly communicated to us, guided us thru until the lead up to the audit. She allayed our anxieties and has been profoundly helpful and we are so blessed to have been audited by her. Much respect to the team and esp to Mel who has showed true professionalism . She has certainly changed our outlook / perpective about audit and made us feel supported, wittingly challenged and most importantly she has provided us emotional support that helped us prepare for what we considered one of the biggest milestones of our journey as a provider. So blessed to have chosen GCC and highly recommended to providers for ndis registration audit.

read more
Excellent services. Timely & informative communication. Had a wonderful audit experience. Thank you so much Emma, Jasmine and everyone at GCC.
Very supportive, explained very well and very personable approach. Thank you
Working with GCC has been easy and quick.The auditors I worked with were great; performed very thorough work and in a collabrative way.With good preparation of policy/procedure/form documents,

ensuring a sound understanding of how these relate to Practice Standards andQuality Indicators - you will make the work of your GCC auditor easy and will lead you to a successful outcome.

read more
I highly recommend GCC, they were very professional during the audit process. As a new provider we learned and were able to improve our internal processes. Special shout out to Shari - our auditor

who made the whole process simple and easy to understand.

read more
We highly recommend Global Compliance Certification for auditing. We had a wonderful experience with the whole team. Staff are very professional and easy to communicate.
GCC is to be congratulated on a well presented, highly articulate and exacting team.Comforting Home Care recently undertook a provisional audit in preparation for providing a service to people with

disabilities under the NDIS.The GCC team represents among the highest levels of customer service we have experienced. We can't speak highly enough about the process followed by GCC. The Lead Auditor was engaging and encouraging in the meeting of service standards and their application to given situations in the audit process. She detailed and provided a clear explanation of issues that needed elaboration. Furthermore, we have been challenged to complete and finalise the outstanding areas that arose in the audit.Thank you GCC for finalising the CHC audit.We recommend the Global Compliance Certification unreservedly.

read more
Comforting Home Care Pty Ltd
Global Compliance Certification (GCC) provided high quality support and service throughout the whole audit process. They were very knowledgeable and put everyone at ease. I couldn't recommend them

highly enough.

read more
We did our provision audit with GCC in Feb 2020 and completed our Mid-term audit with them again last week. Safe to say we will be doing our next audit with GCC as they are an absolute pleasure to

deal with!Thanks again to the team for making this such a smooth process for us!

read more
We had the pleasure of working with Global Compliance Certification. We found the staff to be reliable and totally customer service focused. Our work was carried out in a timely manner. We highly

recommend this company.

read more
Veronica and her team of Auditors were a pleasure to deal with. They made the NDIS Audit process smooth and informative. I will definitely be back to GCC for my next Audit is 18 months.
I was little apprehensive prior to the first stage of the audit not knowing exactly how it would transpire. I was please at the amount of pre information I received and the level of explanation of

the process and what they would look at. The auditor had investigated our system prior to the audit and the question-and-answer session went smoothly. Before starting the process, the auditor made us feel comfortable and relaxed and spent time understanding the nature of our business. The overall experience was good and very positive for us and we recommend GCC to any other organisation considering their services

read more
We couldn't speak any more highly of GCC, the manner in which our audit was conducted was exceptional. We will certainly use GCC in the future.
There is no one else we would trust other than GCC. Thank you for the lovely experience we have had in both our audit for registration and our mid-term audit. We are grateful to the professional and

friendly team who made this process a smooth one. You have offered service like no other, and your competitive prices are a bonus! Thanks again, and see you next time!

read more
My first experience with auditors in my effort to becoming registered with NDIS have been highly positive. GCC's clear pathways that were reinforced from my initial contact with them through to the

manager of GCC have been consistently helpful with a great advice and guidance. As a result of their support and recognising the high level demands that will follow with the service scope of my business of early childhood supports and specialist coordination, I was able to create a service where I am now able to employ staff rather than be a sole trader. The icing on the cake was with the auditor (Susan Hickey) who not only used the audit process that meets the NDIS Quality and Safeguards Standards, but her support and guidance was exemplary by the way that can only add value to my services. I appreciated greatly her genuine interest in finding out about my skills and abilities which only demonstrated further my ability to undertake Early Childhood and Specialist Support Coordination. I want to commend Susan for her highest-level professionalism complimented by her expert skills and abilities, as well as her affirmation and validation. Thank you Susan for your contribution to the development of Allied Developmental Care. I will never forget you.

read more