Use of Certification Marks
We share our terms and conditions for using the certification marks with our valued clients to ensure they can meet the certification and accreditation requirements.
GCC Logo and Certification Marks
Clients may only use the Certification Mark corresponding to the standard(s) and the scope that Certification is based on.
Clients can only use a Certification Mark, which they have been provided with a valid Certificate of Conformity.
Clients with multiple sites can only use the Certification Mark corresponding to the site(s) that they have been certified. The Certification Mark must not be used in any way to create an assumption that not included sites are certified.
The Certification Mark may be shown on Client's letters and other public relations material such as business cards, website and email signature.
The Certification Mark must not be used on product or in any way to create an assumption that it is a product Certification Mark or that a product has been certified.
The Certification Mark must only be shown in standard size and design. Standard size and design may be obtained from GCC on request.
The Certification Mark must never be shown as larger than Client's own logo, but the certification Mark must always be shown in its entirety.
Client will consult with GCC in respect of use of the Certification Mark if necessary.
In case of suspension or withdrawal of a certificate client must discontinue its use of all advertising matter containing a reference to Certification.
In case of incorrect reference to Certification status or misleading use of certification documents or marks, GCC may request corrective actions, suspension or withdrawal of certificate, publication of the transgression or, if necessary, legal action.
The Certification Mark must not be applied to laboratory test, calibration or inspection reports, as such reports are deemed to be products in this context.
JAS-ANZ Logo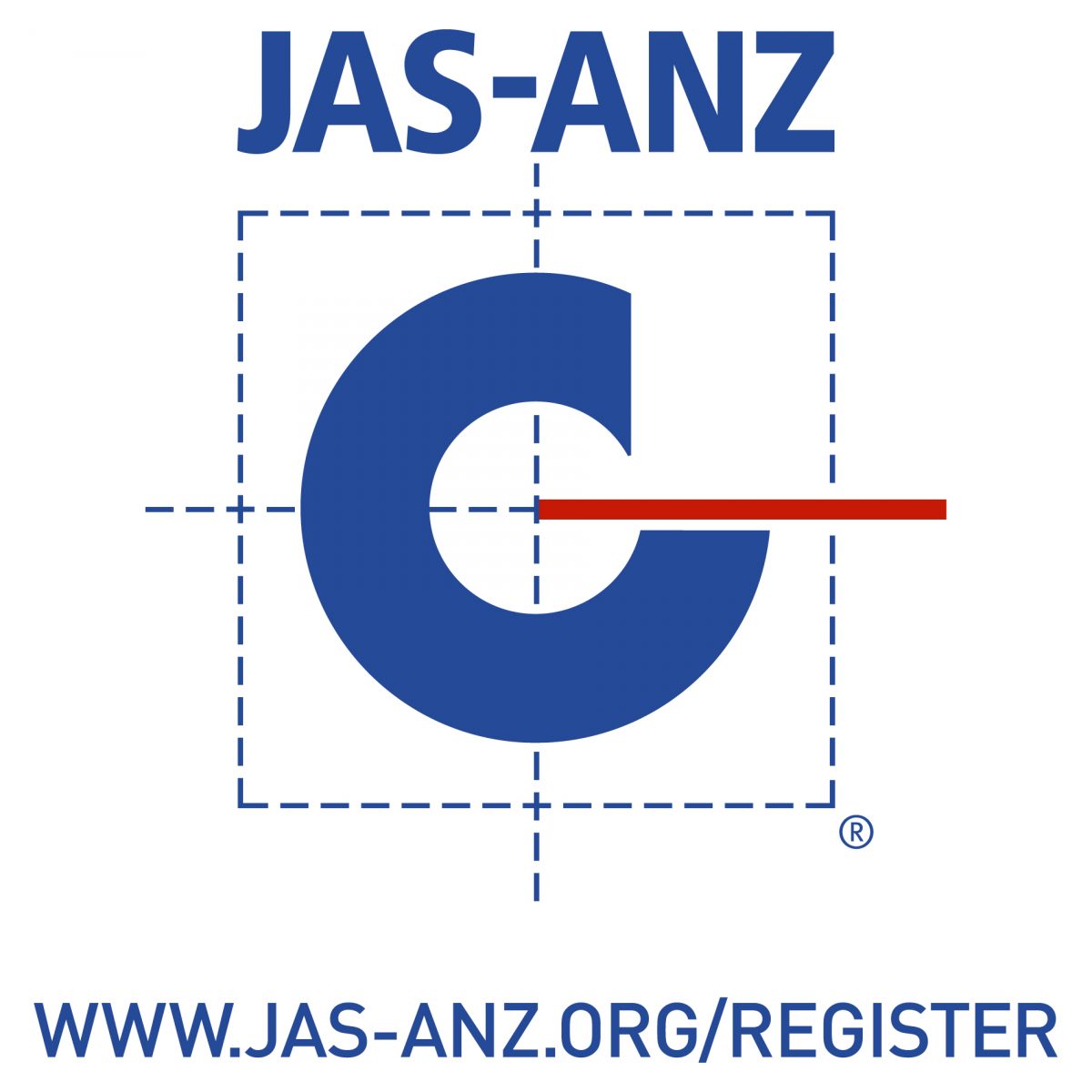 The client may place the Accreditation Symbol adjacent to the name and/or certification marks of GCC and own logo.
The dimensions of the JAS-ANZ Symbol and the GCC certification mark are proportionately equal.
The Accreditation Symbol is only to be reproduced in the colour combination shown here. These colours are: [PMS Reflex (Blue) and PMS 485 (Red)].
However, the symbol may be reproduced in a single colour to conform to existing pre-printed stationery or newspaper and magazine articles.
The URL for the JAS-ANZ register (www.jas-anz.org/register) must be displayed. If the Accreditation Symbol is used more than once in the same document, the URL need only appear in the first instance.
The Accreditation Symbol may be uniformly enlarged or reduced but shall be sufficiently large for the wording to be clearly legible.
The Accreditation Symbol may be embossed or stamped when used on paper.
Electronic copies of the JAS-ANZ symbol may be obtained from the GCC office.
Notification of Changes
Clients are required to notify GCC immediately if:
There is any change in the direct or indirect beneficial ownership or control of the business
Any significant events including, but not limited to:

Fatal incidents
Serious injuries
Occupational disease
Environmental disaster/accident
Legal action by a regulatory authority or interested party. (Any audit report/finding by any third party need to be reported to GCC in next surveillance audit)
Ceasing to carry on business
Ceasing to be able to pay its debts as they become due
Suspension and Withdrawal of Certification
A Certificate may be suspended, withdrawn or cancelled for a limited period or permanently in situations such as the following:
Failure to meet the requirements for maintaining the certification of management systems, relevant legislation requirements, or the certification agreement.
Failure to take effective corrective actions to identified non-conformities within the set time limit
Failure to pay the fees due upon written notice from GCC
Improper use of the certification status, the Certificate of Registration, or the GCC and/or JAS-ANZ Certification mark or logos
If the client voluntarily and officially requested a suspension in writing
Failure to undergo a surveillance audit according to certification program set by GCC
Bespoke services
What Our Clients Say
There is no one else we would trust other than GCC. Thank you for the lovely experience we have had in both our audit for registration and our mid-term audit. We are grateful to the professional and

friendly team who made this process a smooth one. You have offered service like no other, and your competitive prices are a bonus! Thanks again, and see you next time!

read more
My first experience with auditors in my effort to becoming registered with NDIS have been highly positive. GCC's clear pathways that were reinforced from my initial contact with them through to the

manager of GCC have been consistently helpful with a great advice and guidance. As a result of their support and recognising the high level demands that will follow with the service scope of my business of early childhood supports and specialist coordination, I was able to create a service where I am now able to employ staff rather than be a sole trader. The icing on the cake was with the auditor (Susan Hickey) who not only used the audit process that meets the NDIS Quality and Safeguards Standards, but her support and guidance was exemplary by the way that can only add value to my services. I appreciated greatly her genuine interest in finding out about my skills and abilities which only demonstrated further my ability to undertake Early Childhood and Specialist Support Coordination. I want to commend Susan for her highest-level professionalism complimented by her expert skills and abilities, as well as her affirmation and validation. Thank you Susan for your contribution to the development of Allied Developmental Care. I will never forget you.

read more
GCC team is very professional, responsive and supportive.I would definitely recommend "Saeed" from GCC to anyone looking for high quality and professionals auditors with reasonable cost.
Gcc Auditor sent me what was required before the audit and I knew what to expect. She was professional and thorough. Gcc price is the best compared to the market and also they submit the report to

NDIS without delay. I would recommend them if you're looking for Auditor.

read more
GCC made the auditor process smooth. GCC was professional and explained the whole process. I recommend GCC.
K Plus M team can highly recommend GCC as they were highly professional, highly experienced in the industry, and highly efficient. The GCC team (no exception) is very responsive and very helpful

throughout the process. Great customer service.

read more
Book my Audit around two weeks ago. GCC was very responsive towards my email and queries I had. Especially Eliza from admin team was so cooperative and helpful throughout my audit. She guided me from

the beginning to the end, does not matter how many times I called her or email her and it was same with Auditor as well. Much appreciated.The auditor was well educated and fully formed. Auditor emailed me with all the required documents and gave me time to complete all the paperwork and get all the NDIS orientation certificates and training certificates ready. Once everything ready it was smooth and easy.I would certainly recommend Global Compliance Certification (GCC) for its good interaction, assistance, expertise, and compassionate staff.

read more
Great materials. easy to follow and understand. %100 recommended.
I can highly recommend Global Compliance Certification for your next Integrated Management System audit. They are a team of highly skilled and professional auditors.
I Highly Recommend GCC For The High Quality Of Their Services.Our Audit Process Was Very Smooth And Professional In All Stages.Also I Had Great Experience With GCC Training, Thanks For Your

Valuable Training Courses And Resources.

read more
A professional and thorough company for all your accreditation requirements. A pleasure from making an appointment to audit, they are very knowledgeable and friendly. Thank you for your services.
GCC were easy to contact and friendly to work with. They provided clear instructions and demonstrated a willingness to provide support throughout the audit process.
SSH Group are very pleased with our engagement of GCC for ISO compliance. We have found the navigation through all audit stages of ISO certification to be smooth with GCC and commend the team in

general, and Gary in particular as being very professional, experienced, efficient and friendly. We are happy to continue our relationship with GCC and would recommend them to our clients and partners.

read more
Business Development Team
dedicated supports and professional audit. Very helpful team. Effective and efficient manner. Highly recommended. Competitive quote provided as well (that is why it is chosen vs. other providers)
GCC was very helpful prior to audit. Eliza took the time to explain key information regarding NDIS and audit process . Once I booked the audit GCC was proactive , great customer service and all

emails were well documented and organised. Hamed conducted my audit. Prior to my audit he was helpful with any questions or concerns I had . My audit day went really well and Hamed was very well spoken and had a friendly approach which helped remove any stress associated with completing a provisional audit . Many thanks for making this experience into becoming a new NDIS Registered Provider a great one!! The pricing for this audit was reasonable compared to some other quotes I received.Overall, great communication, great organisation skills and great customer service . I look forward to working with GCC for any future audits !RegardsManal

read more
I completed my NDIS Certification Audit on Friday 23 April 2021 and as terrified as I was of the process, the management (Mousa Sharifi) and auditors (Shari Ghobadi and Tania Raar), who conducted the

audit were absolutely wonderful every step of the way. I am very grateful for the successful outcome of my audit, however more than that, I am most grateful to this amazing GCC team and will recommend them to any provider out there seeking to obtain their NDIS Certification. Thank you.

read more
Professionalism, supportive, clear communication of expectations and excellent customer service is the experience received when using GCC.Staff experience and skills were exceptional, ranging from

sales, management and auditors.

read more
Sahar 🙂 and Hamid 🙂 were very professional, extremely patient and very kind to me during all aspects of my Audit. I was a little nervous and they ensured I was okay and we managed to get through

my Audit wonderfully. Thank you Sahar and Hamid 🙂 you were both very understanding in the lead up to my Audit and also during my Audit - you both made me feel very comfortable and relaxed.

read more
Staffs were very responsive and professional. Would love to work with them again.
Moussa and his team of auditors always provide a friendly and professional approach during their audits. They are happy to do workarounds to the schedule based on our operating requirements of the

day. Their findings provide clear guidance to any area we may need to address at the time of the audit. Its always a pleasure to have Moussa and his team around.

read more