ISO 45001 Occupational Health and Safety Management System
This standard is designed to greatly assist organisations of any size in creating and maintaining a safe working environment for their employees.
About ISO 45001 OH&S Management System
ISO 45001 is the newest Occupational Health and Safety Management System standard and is aligned with both ISO 9001 (Quality Management) and ISO 14001 (Environment Management), and has replaced OHSAS 18001 and AS/NZS 4801.
The framework upon which the standard is built is designed to help organizations create a safe and healthy work environment, prevent workplace injuries and illnesses, and ensure compliance with relevant regulations. ISO 45001 promotes a proactive approach to risk management, encouraging organizations to identify and address potential hazards before they cause harm. This leads to a reduction in accidents, injuries, and illnesses, thereby protecting the well-being of employees and enhancing their morale. Achieving ISO 45001 certification demonstrates an organization's commitment to safety and can enhance its reputation among stakeholders, customers, and employees. It also provides a competitive advantage by opening up opportunities for business growth, as many clients and partners now prioritize working with organizations that prioritize worker safety.
As per the International Labour Organization (ILO), the global toll of work-related accidents and illnesses is significant. Approximately 2.3 million individuals, both men and women, lose their lives annually due to work-related incidents or diseases, resulting in an alarming average of over 6,000 daily fatalities. Moreover, on a yearly basis, there are approximately 340 million occupational accidents and 160 million individuals affected by work-related illnesses worldwide. The ILO periodically updates these estimations, and the recent updates reveal a distressing rise in both accidents and occupational health issues.

– International Labour Organisation (ILO)
Quick Quote
Fill out the form below to find out more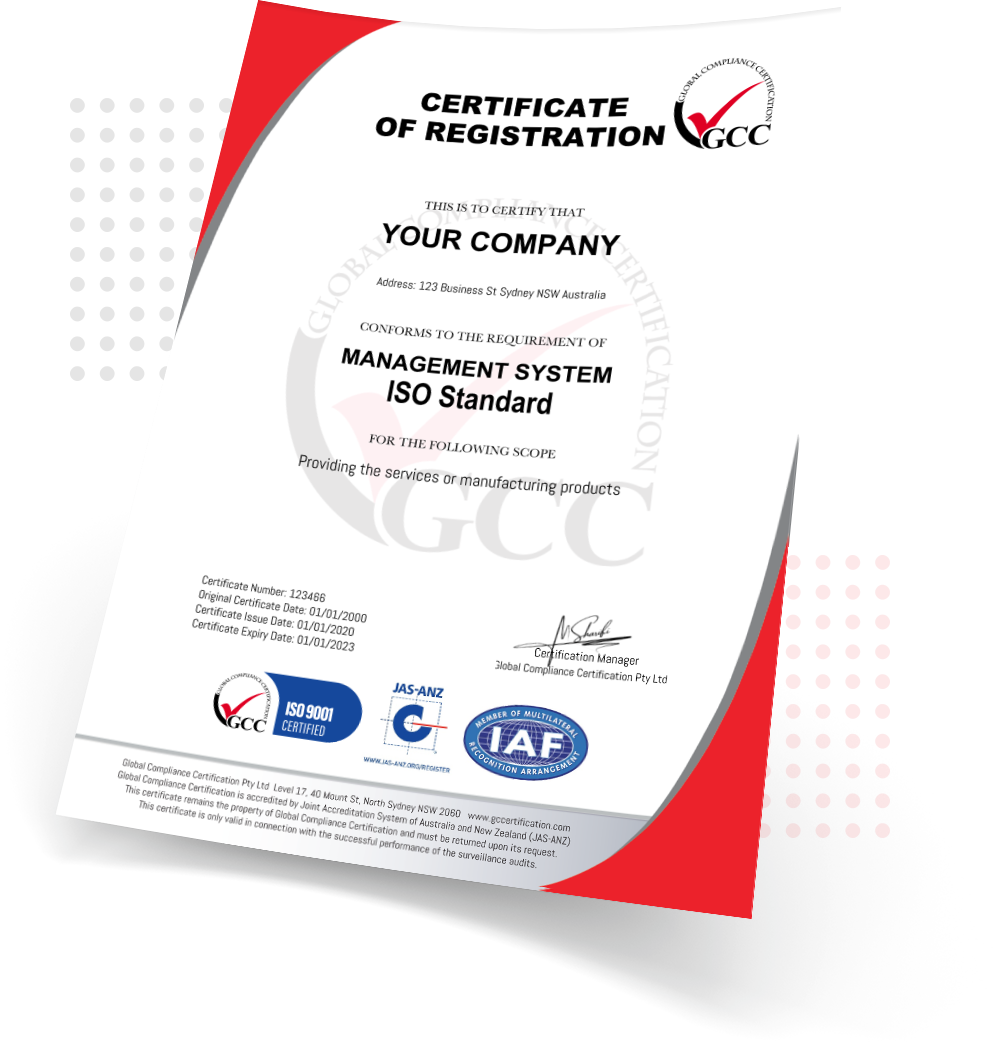 Focus of the ISO 45001
When an organisation implements ISO 45001, they are able to:
Adopt one system across multiple sites and countries
Align their processes with other standards that have been implemented
Ensure all levels of personnel are actively participating in, and responsible for, a safe workplace
Enhance their business credentials with certified evidence of their commitment to the safety of their employees
Benefits of ISO 45001
Ensuring an organisational focus on legal & regulatory compliance
Reduce injury and therefore the associated costs to the individual and the organisation
Increase operational efficiencies due to decreased employee injuries and time-off
Reduce insurance premiums (due to reduction in claims)
Promote, internally and externally, the organisation's commitment to a safe work environment
Promote a system that is internationally recognised and benchmarked
Certification Process

Certification involves GCC assessing your organisation in order to ascertain that management systems meet the requirements of one or more recognised standards. Becoming certified to a nationally or internationally recognised standard is of great benefit to an organization. It improves overall performance, builds confidence within stakeholder groups and broadens the scope of new opportunity.
Frequently Asked Questions
GCC Training
Empower your team with our self-paced efficient training.