ISO 14001 Environmental Management System
The ISO 14001 standard identifies requirements for an internationally recognised Environmental Management System
About ISO 14001 Environemental Management System
The ISO 14001 standard identifies requirements for an internationally recognised Environmental Management System (EMS).  It maps out a framework that an organisation can follow to:
Identify impacts on the environment
Define controls to prevent and reduce pollution
Ensure compliance with legal and regulatory requirements
Grow your business in a sustainable and environmentally responsible way
Enhance Your Reputation
It's the duty of all businesses to create, implement, and maintain responsible practices when it comes to managing their environmental impact. The benefits of doing so aren't just a win for the planet, though. The public's eye has never been more focused on how organisations assess and improve their sustainability which provides ample incentive for getting your business certified.
Build trust with your customers, and enhance your reputation by committing to a cause that is, and will continue to be, at the forefront of everyone's conscious.
Quick Quote
Fill out the form below to find out more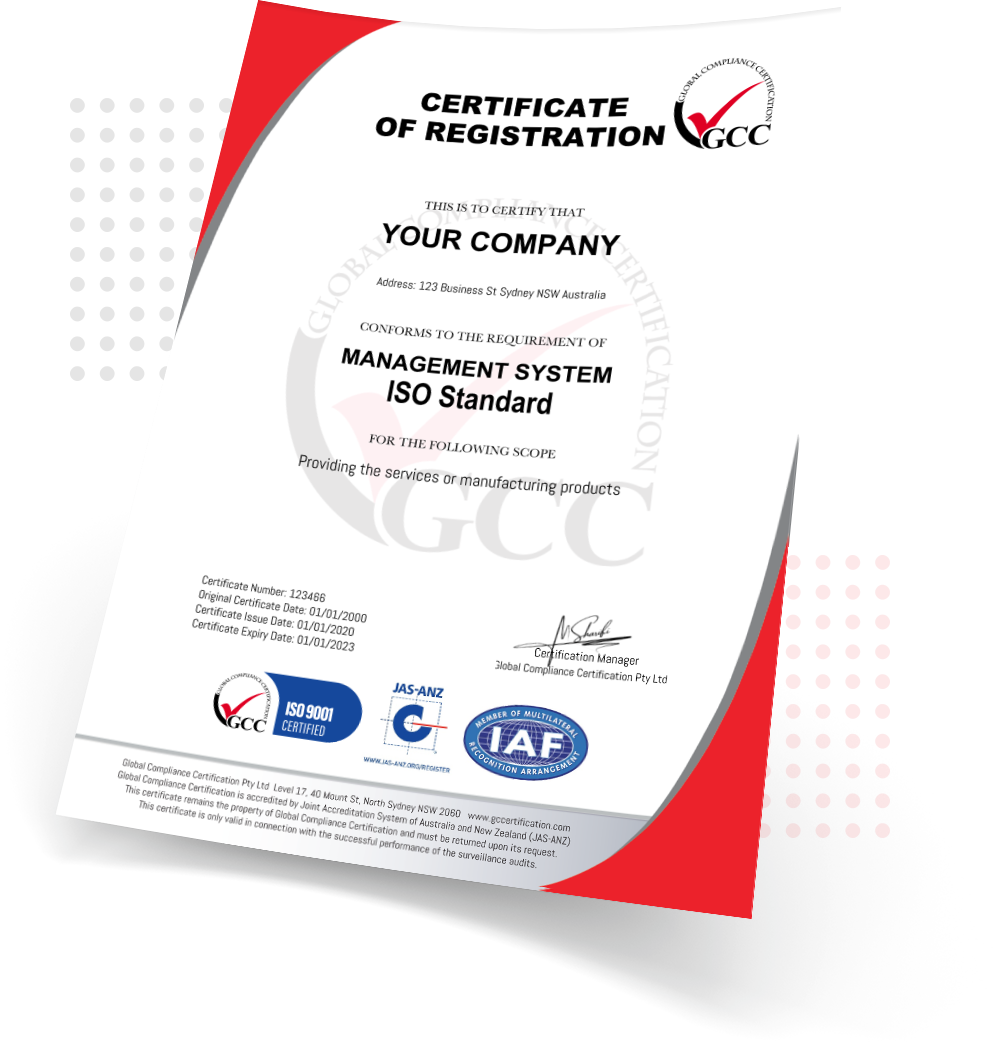 Focus of ISO 14001
Following an update to the standard in 2015, the focus of ISO 14001 includes:
Compliance with government regulations and legal requirements
protecting the environment by preventing or mitigating adverse environmental impacts
Life-cycle thinking, considering each stage of a product or service, from development to end-of-life
Integration between environmental issues and strategic action planning
Waste reduction and resource efficiency
Mitigating the potential adverse effect of environmental conditions on the organization
Benefits of ISO 14001 Certification
Promotes sustainable development
Improves waste and energy management
Reduces the risk of non-compliance with legislation and subsequent costs or prosecution
Improves your brand image and demonstrates your organisation's commitment to the environment
Demonstrates a commitment to compliance with legal and other requirements
Increases your access to new customers and business partners
Improves managing your environmental risks, now and in the future
Reduces insurance premiums, waste handling costs, and other related fees
Attracts investment, enhances brand reputation and removes barriers to trade
Provides an advantage over competitors who are not accredited
Certification Process

Certification involves GCC assessing your organisation in order to ascertain that management systems meet the requirements of one or more recognised standards. Becoming certified to a nationally or internationally recognised standard is of great benefit to an organization. It improves overall performance, builds confidence within stakeholder groups and broadens the scope of new opportunity.
Frequently Asked Questions
What is ISO 14001?
ISO 14001 is an international standard that sets out the requirements for an effective environmental management system (EMS). Following the ISO 14001 Standard guidelines, companies can create an EMS that helps them minimise pollution, make the most efficient use possible of their resources and comply with all relevant local and international regulations. The main focus of developing and implementing an ISO 14001 environmental management system is to help you reduce the environmental impact of your commercial activities by following more sustainable practices in all areas of your business. The favourable reputation enjoyed by companies that achieve ISO 14001 certification in Australia translates into financial benefits, making it well worth considering for organisations in all industries.
Is it essential to have an internal auditor for ISO 14001?
There has been some confusion about the requirement for an internal auditor since the latest update to ISO 14001 in 2015. Hiring a third party expert to carry out auditing is still perfectly acceptable if your company does not have a staff member with the necessary expertise. The clause that covers this requirement may appear to indicate that an employee of the organisation needs to perform the audit, but this is not the case. If you would like to arrange for an experienced professional to audit your EMS, you are, of course, more than welcome to get in touch with us to request a quotation. We provide a full range of ISO certification services in Australia and overseas, including auditing and training for ISO 14001 and other international standards.
How long does it take to update our system for ISO 14001:2015 compliance?
If you already have an EMS in place that is certified as compliant with the 2004 ISO 14001 standard, amending your documentation and procedures to achieve ISO 14001:2015 certification should be a relatively straightforward process. The new standard has been designed to give companies a greater degree of freedom in how they structure and implement environmental management systems, with fewer documentation requirements than before.
As long as your company can demonstrate compliance with the new guidelines, which have not changed radically since 2004, you should be able to complete the review and auditing process in around six months. It is possible to complete the procedure in less time, but we recommend that you take the time to evaluate your entire system while you are making the necessary changes. It is the ideal time to identify any other areas where improvements could be made.
If you would like to learn more about ISO 14001 certification and how it could benefit your business, please do not hesitate to contact us.
GCC Training
Empower your team with our self-paced efficient training.
ISO 14001 – EMS