ISO 9001 Quality Management System
ISO 9001 is a standard that sets out the requirements for a quality management system. The standard is designed as a framework to help guide an organisation towards continual improvement and an increase in customer satisfaction.
About ISO 9001 Quality Management System
This standard is designed to provide an international baseline for quality management, which can be used by companies around the world, regardless of their industry or organisational size. ISO 9001 has become the most widely used and implemented quality management system in the world.
ISO 9001 Principles
QMP 1 – Customer focus

QMP 2 – Leadership

QMP 3 – Engagement of people

QMP 4 – Process approach

QMP 5 – Improvement

QMP 6 – Evidence-based decision making

QMP 7 – Relationship management
Quick Quote
Fill out the form below to find out more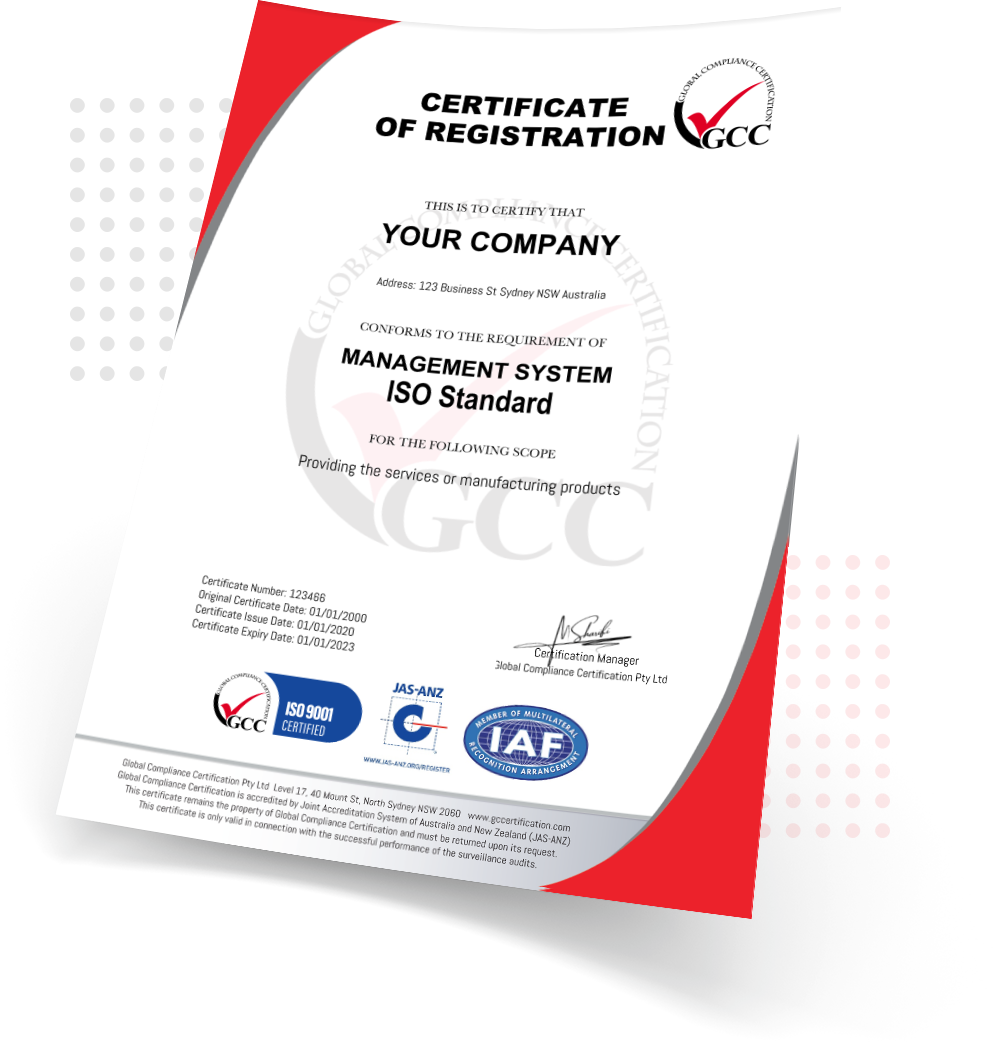 Focus of ISO 9001
Documentation, planning, and processes that support your Quality Management System
Your organisation's leadership and their responsibilities
Work environment and resource management
How a product moves from idea to delivery
Quality Management System analysis with Corrective and predictive actions taken and Regular audits and reviews
Benefits of ISO 9001 Certification
Sustainable quality assurance

Increases satisfaction among customers and employees

Attracts investment, enhances brand reputation and removes barriers to trade

Provides an advantage over competitors who are not certified

Improves profitability through process improvement and a higher return on assets

Increases customer confidence and international acceptance

Improves business performance and manages business risk

Streamlines operations and reduces waste and increases business savings

Encourages internal communication and raises morale

Reduces new employee on-boarding time and ensures staff competencies
Certification Process

Certification involves GCC assessing your organisation in order to ascertain that management systems meet the requirements of one or more recognised standards. Becoming certified to a nationally or internationally recognised standard is of great benefit to an organization. It improves overall performance, builds confidence within stakeholder groups and broadens the scope of new opportunity.
Frequently Asked Questions
GCC Training
Empower your team with our self-paced efficient training.
ISO 9001 – QMS