Protect the environment and operate more
sustainably for future generations
Environmental Management Systems Guidelines
(3rd edition 2013)
The NSW Government environmental management system guidelznes were developed to facilitate the achievement of improved environmental performance by the construction industry. It is provided to assist agencies, other customers and service providers with the implementation of systematic environmental management that ensures better performance, in accordance with the requirements of the NSW Government Procurement Policy, including the Code of Practice for Procurement.
Benefits of NSW EMS
Controlling and improving environmental performance
Improved organisational image and dierentiation from competitors and peers
Improved relations with stakeholders
Better development and transfer of knowledge and technology
Reduced insurance premiums
Earlier access to emerging markets for both new products and by-products
Improved control over liabilities, leading to greater access to capital
Improved performance resulting in staying ahead of the competition
Avoiding unnecessary involvement with regulators
Reducing negative perceptions about the organisation in the community
* This program is not accredited by JAS-ANZ.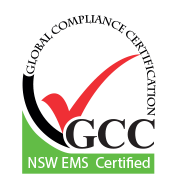 Why our clients choose us?