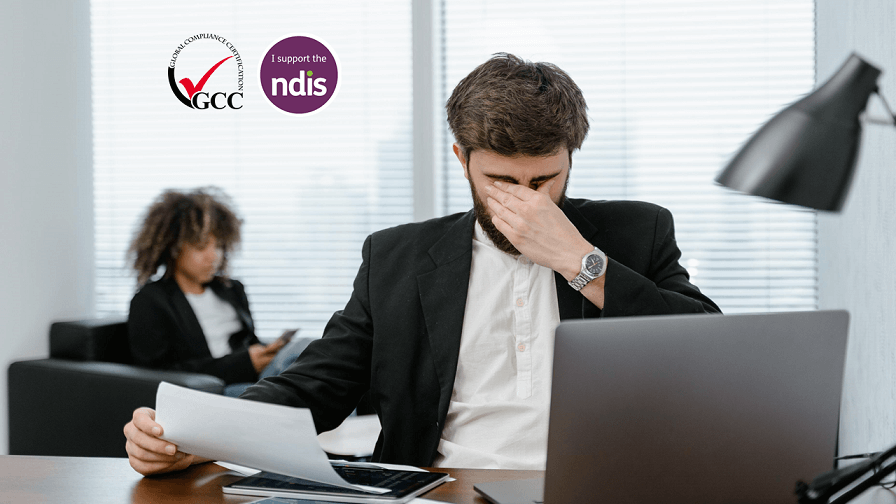 NDIS Compliance and Enforcement policies
The National Disability Insurance Scheme Act 2013 (NDIS ACT) is the legislation which establishes the National Disability Insurance Scheme.  There are also some NDIS Rules which are legislative instruments made under the NDIS Act. They set out detailed operation of the NDIS and should be read in conjunction with the NDIS Act.
Among the NDIS ACT and Rules, the NDIS commission also sets out policies and principles under which the NDIS will operate.  The NDIS Commission's compliance and enforcement activities are an important part of its work as a regulator. Those activities enable the NDIS Commission to encourage best practice among NDIS providers and manage risk to NDIS participants.
The NDIS Commission has developed some policies to manage compliance and to respond to provider's noncompliance. The 'Compliance and Enforcement Policy' provides a broad overview of compliance and enforcement functions, strategies, and tools. The other policies in below list have been developed to provide guidance on the NDIS Commission's approach to the use of compliance and enforcement tools.
These policies are available on NDIS website, and you may find a summary of them below this page with a link to the policy:
1- Compliance and Enforcement Policy
This policy is a summary of following policies and describes range of tools, methods and powers which are available to the NDIS Commission. The actions to be taken is determined on a case-by-case basis depending on the seriousness of the issue, the appropriateness of the person's response and the likelihood of further harm.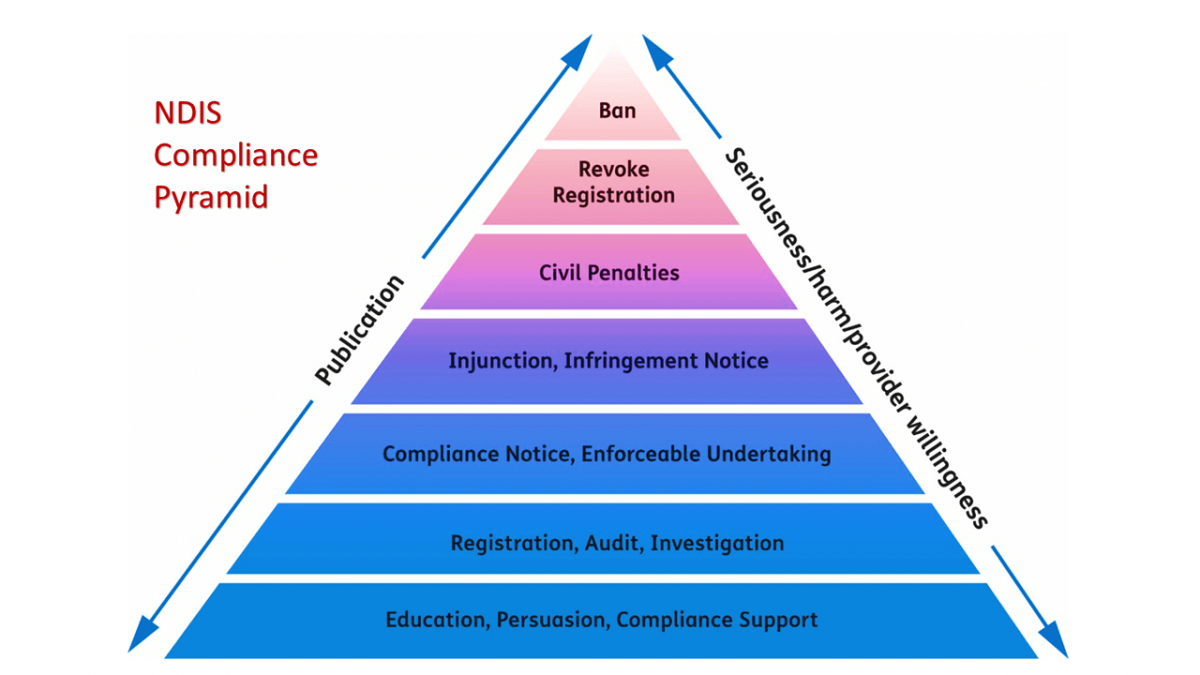 The pyramid helps to show how the NDIS Commission takes a responsive and proportionate approach to regulation, applying the strongest actions to the most serious issues and breaches. It also demonstrates the ability to escalate actions if an initial response does not achieve the intended outcome.
 Read full Compliance and Enforcement Policy here.
2- Compliance Notices Policy
This policy provides guidance on the NDIS Commission's approach to the use of compliance notices. Compliance notices are a non-punitive mechanism that allow the NDIS Commission to take action, without requiring the matter to go to court.
A compliance notice is a written direction given to an NDIS provider requiring the provider to take certain action within a reasonable timeframe, to address one or more issues of identified noncompliance, or possible non-compliance, with the NDIS Act. It may also require the NDIS provider to produce evidence that it has taken the specified action.
 Read full NDIS Compliance Notices Policy here.
3- Infringement Notice Policy
This policy concerns the NDIS Commission's power to give infringement notices in response to alleged breaches of certain provisions of the NDIS Act. Infringement notices are an efficient way of dealing with non-compliance, without the matter needing to go to court.
What is an infringement notice?
An infringement notice is a notice given to a person setting out brief details of an alleged breach of the law by that person, a penalty amount, and the period within which to pay the penalty amount.
This policy includes some guidance on how to respond to an infringement notice, payment options, request for extension and conditions for withdrawal of infringement policy.
 Read full Infringement Notice Policy here.
4- Enforceable Undertakings Policy
An enforceable undertaking is a written commitment by a person to take specific action in order to prevent, or respond to, non-compliance. An enforceable undertaking is legally binding and may be given because of a compliance activity, an investigation, a complaints resolution process, or as an alternative to the NDIS Commissioner commencing civil penalty proceedings.
The policy provides some guidance on how to make an enforceable undertaking, acceptance process, and withdrawal or variation of an enforceable undertaking
 Read full Enforceable Undertakings Policy here.
5- Injunctions Policy
An injunction is a court order that can be used to compel a person to take a certain action, or to refrain from taking a certain action. The NDIS Commissioner may seek an injunction from a court to ensure compliance with the NDIS Act by a provider. Injunctions can be sought from a court to prevent conduct or require a provider to engage in certain conduct whether the specified conduct is occurring, has occurred in the past, or is likely to give rise to an imminent danger to NDIS participants. This enables the NDIS Commission to prevent harm before it occurs.
This policy describes different types of Injunctions and who can be the subject of an injunction.
 Read full Injunctions Policy here.
6- Civil Penalties Policy
This policy concerns a framework for general application in relation to civil penalty provisions. A civil penalty is a financial penalty imposed by a court and is payable to the Commonwealth. The aim of a civil penalty is to deter a person from breaching the law and may be a suitable and effective response to non-compliance in certain circumstances. Civil penalty proceedings are not criminal proceedings, and therefore do not result in a person being convicted of an offence
This policy also describes Civil proceedings and criminal proceedings, the relationship between an infringement notice and a civil penalty, etc.
 Read full Civil Penalties Policy here.
7- Vary, Suspend or Revoke Registration Policy
The variation, suspension, or revocation of an NDIS provider's registration is administrative process available to the NDIS Commission that provides a compliance mechanism without requiring court action. The suspension or revocation of a registered NDIS provider's registration is considered a strong compliance action, in that it prevents the provider from continuing to offer services to NDIS participants in specific circumstances, and therefore is only considered appropriate in instances where serious issues or breaches have occurred.
A provider can seek a review of certain decisions made by the NDIS Commissioner.
 Read full Vary, Suspend or Revoke Registration Policy here.
NDIS – Frequently Asked Questions
NDIS – Request a quote for Audit